Dear Editor,
I write to you as a young Indian Australian woman who is exhausted with how the Australian media portrays us, in the rare case that it does even bother to engage with us. The cartoon by Johannes Leak is disrespectful, derogatory and quite frankly – a low blow. This is my first time ever writing commentary to an Australian newspaper, I have never felt my voice mattered until recently.
I understand your editor has made the apology claiming they are Biden's words – but I think one must really undermine our intelligence to use that excuse. I read the Australian because my employer purchases a corporate subscription to your paper, I understand the substance of your paper is not written for a woman like myself. This cartoon came to my attention as Mike Cannon-Brookes, Cofounder of Atlassian tweeted about as did our former Prime Minister Kevin Rudd. Other Australian Indians have also reacted to this for instance Pallavi Sharda tweeted "Thank you for the reminder of how you see me. Of how you see a woman in whom I see myself. Thank you for the reminder of why I didn't pursue a legal career in this country, why I left at 21 & why I devote my life to representation beyond your reductionist narrative."
It has been condemned by many Australians who uphold the values of respect, whether you align with Kamala Harris or not is a separate matter. I have served as the youngest and only woman of colour on the board of a publicly listed company (NSX:CSH) from the age of 22 – 26 that operated Bendigo Community Banks, we provided 80% of our profits back to the local Boroondara community. This experience alongside many others has taught me we have a long way to go until we finally start taking our Indian and more broadly our South Asian community seriously. Where my family resides in Casey (the fastest growing municipality in all of Australia) more than ~25% of the population is South Asian, yet there is little representation of our community at a local level. When your paper publishes these cartoons, you undo the progress we have made in Australia. It's a cheap shot really.
It's a shame this is what is published during South Asian Heritage Month, I have worked hard to celebrate brilliant South Asian woman such as Professor Svetha Venkatesh, one of the top Artificial Intelligence scientist in this country and the only person from Australia on that list. I would like to echo Pallavi's words "Your ignorance baffles but it doesn't surprise. Your cohort has never walked the tightrope between being seen & unseen." However I still live here, and I still believe Australia has hope – it is only a matter of time. We will rise, we will take positions of power to serve this country and we will not tolerate this behaviour. I have hope when I look at Canada – a country which has been hailed as having the most diverse cabinet in the country's history and also the world's most Sikh cabinet. Australia has a long way to go, but I'm confident we can speed up that process when we share our voices and are heard.
Regards,
Daizy Maan
Program Manager, SPARK Deakin & Founder of the Australian South Asian Centre
Original Cartoon published by the Australian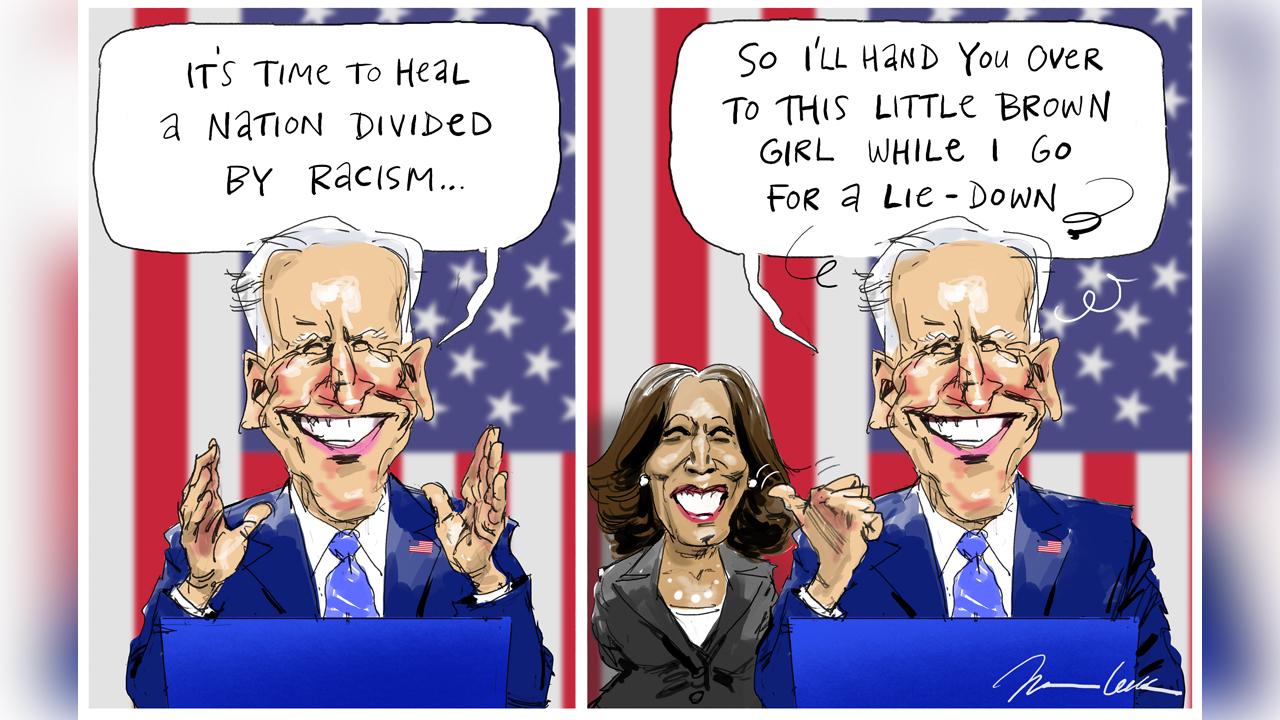 The above is an email I sent to the editors at The Australian on 16/08/2020 regarding the cartoon they published (below).