How can prescription glasses possibly be $49 AND come with a lifetime warranty? Hello startups.
Heard of Dresden Optics? German inspired, made with love in Australia.
The story starts in 2016 when I had my new prescription and was looking for my first pair of glasses. I stumbled across the guys behind Dresden at the Sustainable Living Festival in Melbourne in a hipster portable truck offering glasses within an hour.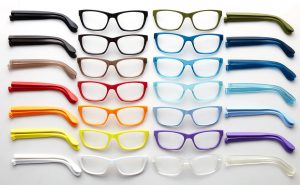 I forget his name but I asked one of the guys who served me what his role was. He said "I'm the head of R&D", I asked what does that entail? To which he humbly said "I go around picking up plastic and melting it to see what works and what doesn't".
My experience
I've now been wearing my dresden glasses for almost 2 years. What impressed me most was the range made out of upcycled plastic — trash essentially. This range can only be bought in store and is made of plastic picked up outside. Bloody brilliant. Who needs to wear Chanel when you can wear trash? So yes Dresden is trash (if you buy in store and ask for this funky range).
Disrupting the industry
Eyewear has long been a very high margin business, it is estimated frames are usually marked up 10x — 25x from point of manufacture to point of sale. (1) Most people make their health insurance pay of expensive branded eye wear.
Unlike other companies, Dresdens only come in 4 sizes and you can snap off the side arms and change the colours as you feel. They're truly disrupting the industry and offering affordable glasses to everyday people. Watch out OPSM and Specsavers.
From a brand perspective, I won't be surprised when Dresden becomes the Warby Parker of Australia — who in 2017 did $250 million on sales (2).
Growth — where can you find them?
Back in 2016 I knew they were a startup, at that stage they didn't even have a store in Melbourne (now they have 2 -Fitzroy and Windsor) + Sydney and of all places one in some town in Canada — talk about going global. The total eyewear industry is worth roughly $90 billion, and is projected to hit $140 billion by 2020 (3), and Dresden is making its mark.
*This is not a sponsored post, I'm just genuinely in love with Dresden ❤
(1) http://blogs.anderson.ucla.edu/global-supply-chain/2017/08/warby-parker-vs-luxottica-supply-chain-disintermediation-in-the-eyewear-industry.htm
(2) https://www.inc.com/magazine/201706/tom-foster/warby-parker-eyewear.html
(3) https://www.forbes.com/sites/ajagrawal/2015/12/18/the-sunglasses-industry-a-lesson-in-the-importance-of-branding/#6b382dd53a21